Turkey's Currency Crisis Rages On As Lira Sinks Again
Turkey's currency dropped again Monday as the country wrestled with a crisis that has rattled markets around the world.
The Turkish lira plunged as much as 11% against the dollar after markets opened in Asia before recovering some of its losses in volatile trading later in the day.
The lira had already plummeted more than 20% last week as a political clash with the United States intensified and investors fretted about the Turkish government's lack of action to tackle the problems plaguing its economy.
The lira's tailspin has unsettled global markets, with shares of European banks coming under particular pressure because of concerns over the lenders' exposure to Turkey. On Monday, stocks fell 2% in Tokyo and more than 1% in Hong Kong.
Turkish President Recep Tayyip Erdogan has dismissed calls for the country to raise interest rates to try to ease the crisis — and has lashed out at the United States.
"We will not give in," Erdogan said in a speech Sunday. "If you come at us with your dollars then we will find other ways to do business."
Economists are warning that if confidence isn't restored quickly, Turkey could lurch into a recession and debt crisis requiring a bailout from the International Monetary Fund.
"Investors are clearly concerned that Turkey's government won't act (or allow the central bank to act) to shore up the currency, and fears are mounting that this could result in a crisis in Turkey's banking sector," William Jackson, chief emerging markets economist at research firm Capital Economics, wrote in a note to clients Friday.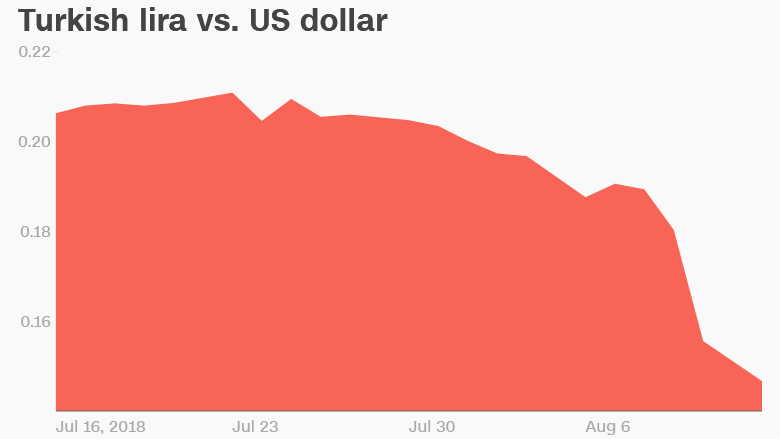 The lira is now down more than 40% against the dollar since the start of the year, making it far harder for Turkish companies to pay back loans they have taken out in the US currency.
Meanwhile, the US government is using the lira crisis to ramp up pressure on Turkey over its detention of an American pastor.
"I have just authorized a doubling of Tariffs on Steel and Aluminum with respect to Turkey as their currency, the Turkish Lira, slides rapidly downward against our very strong Dollar!" President Donald Trump tweeted Friday. "Our relations with Turkey are not good at this time!"
The Turkish government has so far struggled to soothe investors' concerns.
Finance Minister Berat Albayrak said in an interview with Turkish newspaper Hurriyet on Sunday that the government has drafted an economic action plan that it will start implementing on Monday morning.
Albayrak, who is Erdogan's son-in-law, didn't specify what the plan would involve. He said the country's banks and banking regulator "will take the necessary measures quickly."
The central bank then announced in a statement early Monday that it would "take all necessary measures to maintain financial stability" and "provide all the liquidity the banks need." It also said it would slash the amount of funds that banks are required to hold in reserve.
The Turkish currency erased some of its earlier losses, but the announcements weren't enough to trigger a rally. The lira was down around 7% against the dollar in afternoon trading in Asia.
Investors are waiting for "a convincing response from the central bank and government," Rob Carnell, an economist at investment bank ING, said in a note to clients Monday.
One dollar now buys a little under 7 lira, compared with fewer than 4 at the start of the year.